I received compensation for this post, but all opinions are 100% my own and may differ from yours. I will only endorse companies, products and services that I believe, based on my own experiences, are worthy of endorsement.
I spent years when I was younger wearing high heels. Seriously, every day I wore high heels, sometimes stilettos. The abuse I put my poor feet through, well… I'm paying for today.
On the opposite side of heels are my other favorite shoe, the flip flop. I wear flip flops a lot during the summer, and if you didn't already know, flip flops are not the best choice of shoe wear. They offer absolutely no support to our poor feet.
When our feet aren't properly supported, it can also put a lot of strain on our body, like our knees and back. I know I sure can feel it in my lower back when I wear shoes with little to no support.
I'm grateful to Dr. Scholl's inserts. What a lifesaver they've been for my husband and me. We both suffer from plantar fasciitis, and my husband also has over pronation, so we've both worn Dr. Scholl's orthotic inserts for years.
Dr. Scholl's inserts have three layers to add support to your feet…
Soft Top Cloth – For comfort and durability.
Cushion Layer – Provides the right amount of cushion to reduce the shock from where your heel hits the ground.
Cradleflex® Support System – Gives you a stability layer that supports your arch. Supports your body from the bottom up.
I'm excited to try the new Dr. Scholl's kiosks in Walmart stores. The Custom Fit® Orthotics Kiosk will let you find the perfect orthotic insert for your specific needs.
Coupon Offer
Save $10.00 on any ONE (1) Dr. Scholl's® Custom Fit® Orthotic Inserts!
What great savings! And don't forget to check your Valpak envelopes to get an additional Dr. Scholl's coupon deals.
Walmart's $500 Gift Card Giveaway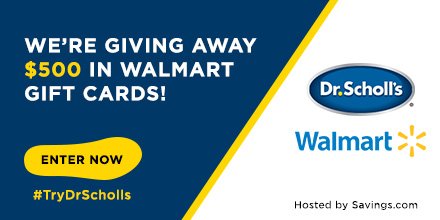 Giveaway starts August 21st at 12:00 AM ET to Sunday, Ends – August 27th at 11:59 PM ET.
Ten (10) winners will receive a $50 Walmart gift card.
Users enter the giveaway by heading to the Walmart page on Savings.com and submitting your email address on the form at the top of the page.
Winners will be chosen through a lottery drawing and notified on Monday (8/28) via the email address you use to enter.
See complete Official Rules for entry instructions, full prize descriptions, restrictions and other important details.
See if there's a Dr. Scholl's Custom Fit® Orthotics Kiosk near you and HURRY and enter the giveaway for your chance to win.