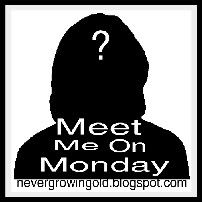 It's "Meet Me On Monday" time again. I've said it several times, and I'll say it again, I love memes that tell my readers more about me, and where I can learn more about my fellow bloggers. And… sometimes, I learn something new about myself.
Every Sunday Never Growing Old will post five get to know you questions that you can copy and paste into your own Monday post and we can all learn a little more about each and every one of us!!
Questions:
1. Tomorrow I am _________
Since I forgot to do this yesterday, my tomorrow will be Tuesday. I am having lunch with my son at school. And, continuing to count calories. Ugh.
2. When is your birthday?
It was April 17th.
3. What are you currently excited about?
Summer break is just 23 days away!!!!
4. Do you have any secrets?
Who me?
5. What do you normally eat for lunch?
Turkey sandwich or a salad. Or whatever was leftover from dinner the day before.
I'd love to add a linky, but for some reason Blog Engine does not like them. So, I'd love it if you would leave your link in the comments if you participate in Meet Me On Monday, so I can stop by and "meet" you! If I alreaday know you, I'm sure I can learn something new about you!