This is a Sponsored post written by me on behalf of Atlantic Luggage for SocialSpark. All opinions are 100% mine.
I dream of traveling. The kind of traveling that is spontaneous. The kind of traveling that could last for days to weeks. One day when our son is in college and my husband and I have retired… that is the kind of traveling we will do.
Until then, we will be content with our 1-2 trips a year. We have done enough traveling that I'm in need of some new luggage. I have been making frequent trips to visit my family this year, so my luggage is starting to show some wear and tear.
I was looking at some of the great pieces at Atlantic Luggage this morning, and found just what I was looking for – something versatile, lightweight and affordable. The Compass®Unite Debut® is the perfect luggage for us.
I love the Compass Unite because it's….
Versatile – From an overnight bag, weekend tote, carry-on tote to a piece that will carry a family of three's things for a week's vacation, you can find everything you need with the Compass Unite line. Not to mention they're very stylish
Lightweight – Compass Unite has a patent pending technology called Link2Go™ that allows you to attach two pieces of luggage together, so you can roll the luggage as if it were one piece.
Affordable – Compass Unite is priced with families in mind. You won't break the bank spending money on luggage… they want you to save your money for your travels. If you want reliable luggage that will last for years and not break down on you during your travels, you will definitely get your money's worth with Compass Unite.
If your a fashion conscious female who wants it all — style, function, quality, and value… Compass Unite is the way to go.
WIN A FAMILY TRIP FOR (4) CONTEST:
That's right, you can win a family trip for 4 in the Atlantic Luggage Sweepstakes! One lucky person could win a family vacation (for 4) to the destination of their choosing, either Los Angeles, CA or Washington, DC!!! Trip includes airfare, hotel, $300 activity allowance, and 4-pieces of Atlantic luggage.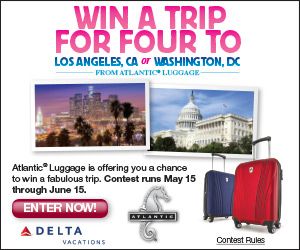 I sure hope one of YOU win. Go enter and Good luck!
What has been your favorite vacation?