Soccer practice, track meets, dance class, day camps, school… shew, are you tired, yet? I know I am. I'm sure this sounds familiar if you're a parent. And the more kids you have, the busier you are.
We parents are merely glorified chauffeurs. An unpaid taxi service. Between work, errands, and running our kids from this practice to that class, you probably don't know if you're coming or going.
Well Seattle's Best Coffee is showing their support for those of us deserving a break. Right now you can save $1.50 on a 4 pack of Seattle's Best Coffee Iced Latte with the printable coupon.
I also have some tips to help make your life more efficient:
A Full Charge
Make sure your cell phone/smartphone has a full charge. You don't want to be out and need to make a call and your phone is dead.
Keep A Spare
Always have a box of things you may need in the trunk of your car. This can save you a lot of time. Keep an extra set of clothes for each child. This way if there's an accident, you don't have to drive home to change. Other things to have handy is – spare shoes, towel, and a first aid kit.
Share It
Don't hesitate to ask for help. Maybe a friend or neighbor can take turns taking your kid(s) to piano lessons today and you can take hers tomorrow. You can run the neighbors kids to soccer practice one week and your neighbor can take yours next week.
Maintain It
Make sure you keep up maintenance on your vehicle and that there's gas in your car. This can save you time, worry, and give you peace of mind while on the go.
Organization
Keep a schedule or itinerary, so you'll be more efficient with your time. If you have several places to go, plot out which place you can/should go first, to save on time.
A Place For Everything And Everything In Its Place
Keep car keys, umbrellas, jackets, sunglasses, sunscreen, and anything else that you most often take with you when you leave the house in a place by the door. This will save you time. Because it is stressful running around looking for something when you may already be running late.
Plan Ahead
Pre-plan meals. This way the family can still have meals together (I think this is one of them most important family times). One reason many families eat out so much is that it's so time-consuming to plan, prepare, cook, eat dinner, and clean up; and then try to get everybody out the door. So if you plan your meals, say on Sunday for the week, and either make them ahead and freeze them or maybe chop vegetables and put in baggies to save you some time in the evenings, can really help.
Healthy Snacks
Speaking of food… keep healthy snacks in the vehicle or in a tote/purse. This way you'll not have to waste time or money making unnecessary stops for food.
Stay Home
Try scheduling your errands for those days you do have to run the kids to practice, class, rehearsal, etc. If you don't absolutely have to go, just stay home. Maybe you can make it family game night or family movie night. Any way you cut it, it will make a great opportunity to spend time with your family.
Breathe
If you want to make your life easier and more efficient, take time out for yourself. You have to take care of yourself if you want to be able to take care of others. Meditate, take a bubble bath, yoga, read a book… whatever it is that you find relaxing. You'll be all the better for it.
And this isn't so much a tip of efficiency as it is a hard fast rule – Don't Text And Drive! If you have some tips to make our lives run more smoothly and efficiently, please share them with us!
Here's what I love about Seattle's Best Coffee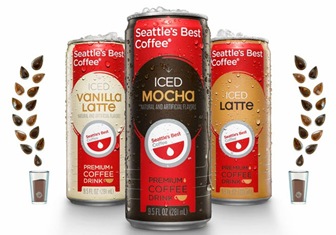 It's low calorie – Just 130 calories per can.
It's affordable – A premium latte for just $1.49? And a 4-pack is an even better deal, at just $4.99.
It's everywhere – Available in major grocery, convenience and other retail stores.
Here's more information on Seattle's Best Coffee: http://www.seattlesbest.com. You can find Seattle's Best Coffee on Facebook and follow @SeattlesBest on Twitter.
I wrote this blog post while participating in the SocialMoms and
Seattle's Best Coffee blogging program for a gift card worth $30. For
more information on how you can participate, click here