This post is sponsored by Sivan Social. All comments and opinions on why you should try Antipodes skincare products are 100% my own.
If you know me, you know I'm a beauty product junkie. I love trying new beauty products, from serums, lotions, and moisturizers to makeup and hair care.
And what I love even more than skincare products… is skincare products that are good for you.
That's why I'm excited to try Antipodes.
I've just started using Antipodes, and I already love how my skin feels. Here's what I'm trying so far…
Culture Probiotic Night Recovery Water Cream
I take a probiotic every day but never even thought about a probiotic externally for my skin. But it makes so much sense.
We want good bacteria on the inside; why not on the outside too?
Night Recovery Water Cream also contains hyaluronic acid. HA helps to reduce fine lines and wrinkles and provides moisture to your skin.
It's an ingredient that is great for all skin types and the best skin hydration ingredient out there.
Check out Culture Probiotic Night Recovery Water Cream for yourself HERE to learn about the benefits and scientific validation… it's very impressive.
Kiwi Seed Oil Anti-Aging Eye Cream
The eye cream is vitamin C-rich kiwi seed oil that hydrates and targets fine lines around the eyes.
When I apply the cream around my delicate eye area, it felt cool and soothing.
I love that these products leave my skin feeling soft without feeling greasy. Both the face cream and eye cream go on creamy and absorbs quickly into my skin.
Learn more about the Kiwi Seed Oil Anti-Aging Eye Cream HERE. Their eye cream is popular for a reason!
About Antipodes
Antipodes® is a company that is a Scientific Green Beauty™ company from New Zealand. They only use pollution-free ingredients, results-driven, native New Zealand (nature sourced), and certified organic.
Founder and CEO Elizabeth Barbalich, having a background in science and innovation, understands how to bridge the gap between natural and preeminent formulations. She uses only products made from sustainable healthy ingredients with skin-enhancing properties that pass powerful scientific testing.
4 Reasons to Try Antipodes Skincare
Certified Organic
Antipodes doesn't just throw around the word "organic" lightly. It is their philosophy – it's what really is best for the health and well-being of your skin.
They use a strict Green Beauty Ethos™ to ensure that all their skincare products are natural plant-based ingredients sustainably cultivated in the clean, green countryside of New Zealand.
Sustainability
This simply means that Antipodes is meeting our skincare needs without compromising the ability of future generations to meet their own needs. They are doing their part to make sure there are natural resources left for future generations.
Scientifically Validated
All Antipodes products include not only pure ingredients but clean ingredients. Their skincare products are scientifically validated, from ingredient discoveries to clinical trials to In Vitro Testing (in-house laboratories). Learn more HERE.
From Elizabeth Barbalich,
As consumers know, the market for natural and organic skincare is a crowded one and identifying authentic brands can be difficult. I believe consumers deserve authentic products and a scientific level of proof that formulations have been scientifically tested and validated, including the all‐important testing on human fibroblast cells in‐vitro.
Build Your Perfect Beauty Regime
Whatever your skin care needs are, you can find the perfect products for you. Whether your concerns are anti-aging, blemishes, dull skin, unevenness, and more, you'll find all the skincare products you need to build the perfect beauty regime.
Learn more about Antipodes HERE.
To help you start your perfect beauty regime with skincare products that are certified organic, green, and healthy for you, here's a discount…
Antipodes Discount
Get 20% Off Sitewide at Antipodes
Coupon Code: SAVINGS20
Dates: 7/27 – 8/30
Restrictions may apply.
There's also a great giveaway you won't want to miss!
Giveaway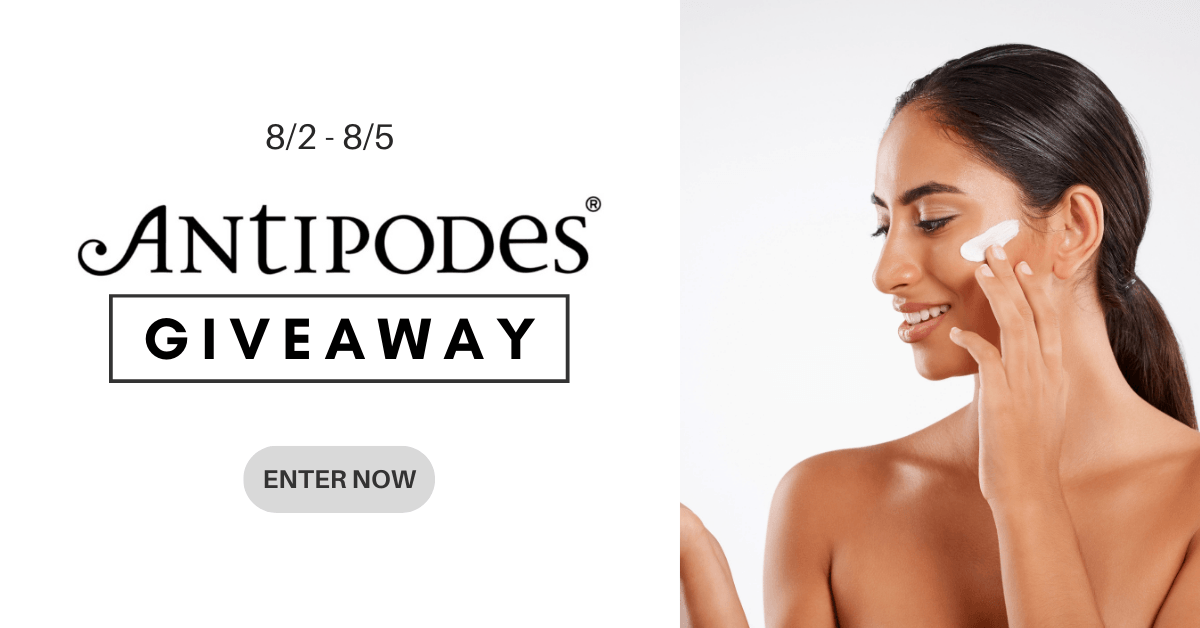 When: Monday, August 2nd at 12:00 AM PT to Thursday, August 5th at 11:59 PM PT.
What: 5 (5) winners will receive a $100 e-gift card to spend at Antipodes.
How: Enter the giveaway by heading to the Antipodes merchant page on Savings.com and submitting your email address on the form on the page.
Winners will be chosen through a lottery drawing and notified on Friday, August 6th, via the email address you used to enter.
See complete official rules for entry instructions, full prize descriptions, restrictions, and other important details.
I have not been this excited about trying new beauty products in a long time. I'll have to stock up on Antipodes before the discount expires!